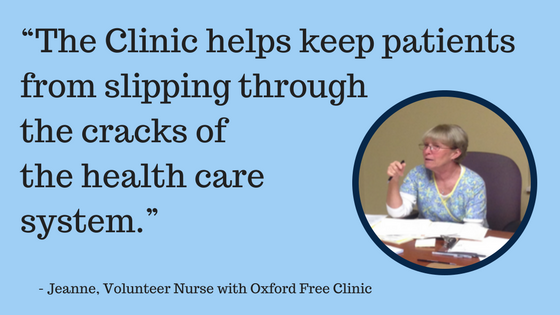 Jeanne is one of Oxford Free Clinic's most dedicated volunteers. She first volunteered with the clinic just weeks after it opened in 2006 as a registered nurse.
"I do this because it is important work," says Jeanne. "It is like caring for a child – it is not always easy, but you do whatever you need to do to care for your child. I feel that way about the Clinic." "The Clinic helps keep patients from slipping through the cracks of the health care system."
Jeanne is a pillar of the organization, and provides regular, unfaltering volunteer service to Oxford Free Clinic. She offers a calming, familiar presence and connects to those patients in need. It's special individuals like Jeanne that keep the doors of the Clinic open for our patients and provide them with high-level care.