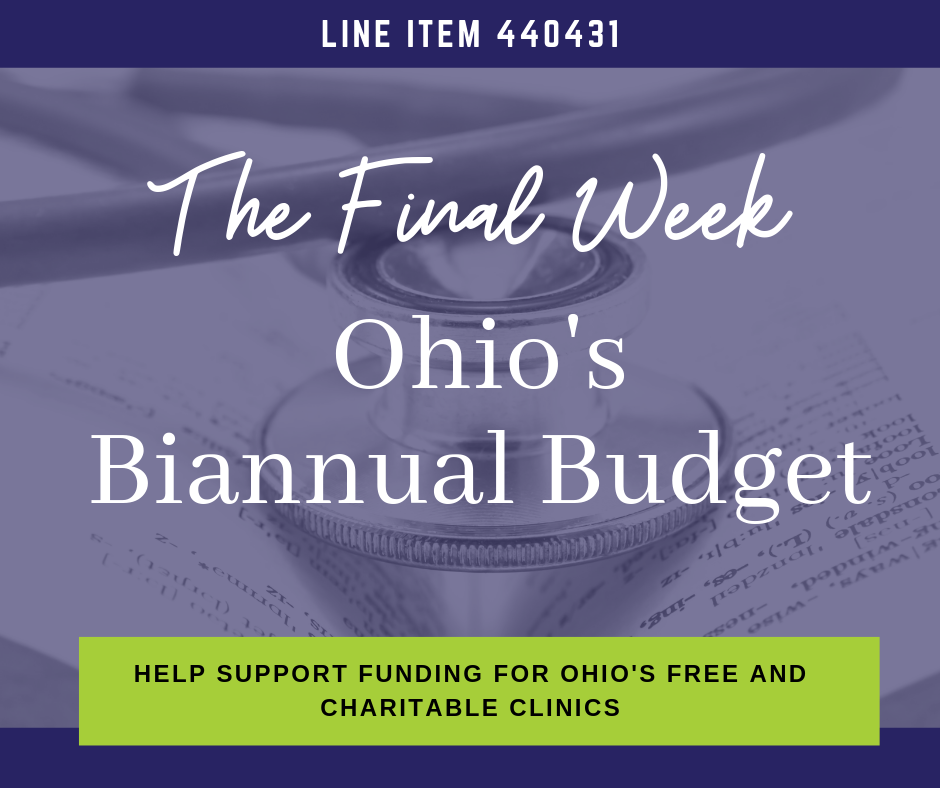 FOR IMMEDIATE RELEASE: 
June 21, 2019
Contact: Deb Miller, Executive Director  
(614) 869-3412  
---
Columbus, OH — House Bill 166, Ohio's proposed state budget for fiscal years 2020 and 2021, recently passed both the House and Senate. The bill now heads to Conference Committee to reconcile the two legislative chambers' differences before heading to Governor DeWine's desk. Currently, H.B. 166 appropriates $1.5 million for Free Clinic Safety Net Services (line item 440431). Charitable Healthcare Network is very grateful to all of Ohio's legislators who supported this appropriation and requests that members of the Conference Committee maintain this critical funding.
Deb Miller, Charitable Healthcare Network's Executive Director, issued the following statement reacting to the Senate's recently-passed version of the budget bill:
"Charitable Healthcare Network's member clinics provide $18.00 of care for every $1.00 they spend and improve the health of the people they serve. Although member clinics primarily rely on in-kind services and donations of health care resources and time to accomplish their mission, this modest budget allocation is critical to helping them keep the lights on and saves taxpayer dollars in the long run—after all, members' primary goals are to decrease inappropriate emergency room visits and help keep clients healthy so that they can work."
Miller continued, "For example, Faithful Servants (FS) https://faithfulservantscarecenter.org —a free clinic in Akron—recently saved thousands of dollars in unreimbursed care by treating just one patient. Jim couldn't afford his diabetic medication, so his blood sugar spiked and he entered a state of diabetic ketosis. He refused to go to the emergency room due to fear of the cost—and rightfully so, as an ER likely would have hospitalized him for several days. Fortunately for Jim, the FS volunteer physician stayed late to stabilize him by providing him with insulin, hydration and close monitoring. Jim went home that evening with continued monitoring. It is only one real example of many that show how CHN's free clinics provide tremendous value to Ohio communities, their neediest citizens, and taxpayers."
Miller closed by stating, "We applaud the Ohio General Assembly's efforts to improve access to health care for our clients, and we request that legislators and the Governor maintain the current $1.5 million appropriation for Free Clinic Safety Net Services (line item 440431)."
For more information about Ohio's free and charitable clinics, please contact Deb Miller, Charitable Healthcare Network's Executive Director, at (614) 869-3412 or dmiller@charitablehealth.org.
###
Charitable Healthcare Network (formerly Ohio Association of Free Clinics) is a 501(c)3 non-profit organization. CHN supports and provides referrals to free and charitable clinics. Services vary, but may include: primary care, prescription assistance, dental, vision, behavioral health and other specialties. Using cost-effective strategies, such as in-kind donations and volunteer time from physicians, nurses and support staff, free clinics provide health care needs for their patients. These strategies mean that every dollar invested in free clinics brings nearly $18.00 in care for patients.