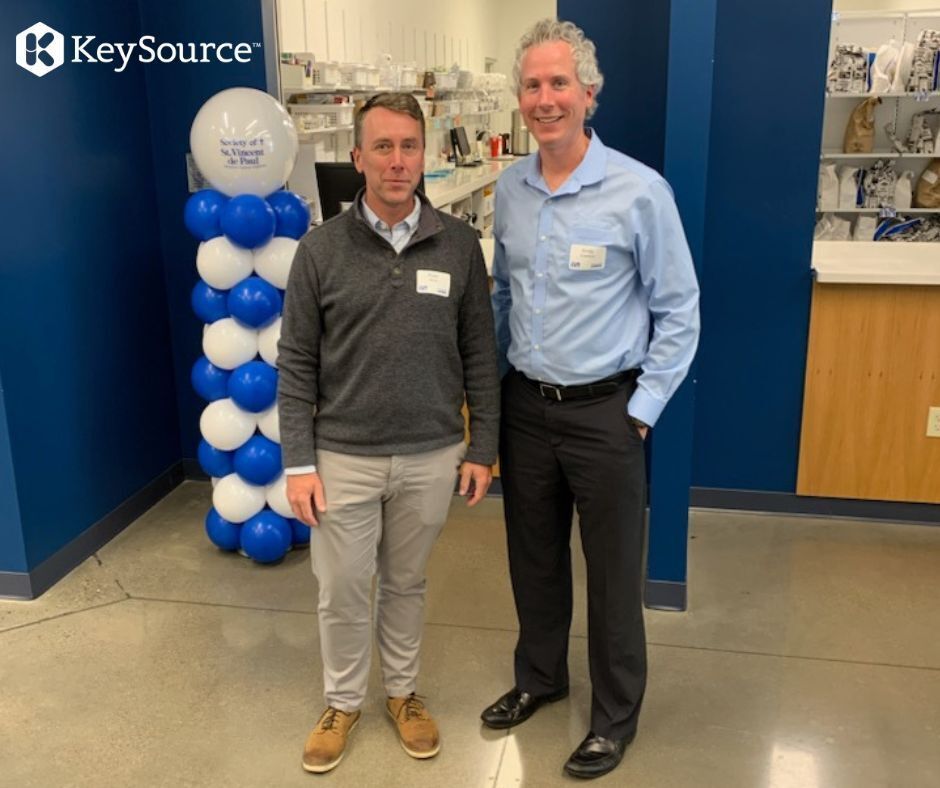 In partnership with the Ohio Department of Health (ODH), the Charitable Healthcare Network (CHN) is pleased to announce KeySource and its partnership with St. Vincent de Paul Charitable Pharmacy in Cincinnati as the 2022 Free Clinic Community Partner of the Year Award winner.
Since 2007, KeySource has been a proud partner of St. Vincent de Paul Charitable Pharmacy by supporting monthly product donations. These contributions provide prescription medications to those in need at zero cost to the patient. In 2022, St. Vincent de Paul Charitable Pharmacy filled its 700,000th prescription and attributes its partnership with KeySource as a key reason for the ability to reach this extraordinary milestone.
Though the SVDP Charitable Pharmacy has other medication donors, KeySource is unique in its model of providing a monthly credit that can be used for any medications in its inventory. More commonly, partners want to donate whatever is leftover or convenient; KeySource's innovative model allows the Charitable Pharmacy—and ultimately the needs of its patients—to determine which medications it receives.
"SVDP Charitable Pharmacy has no other partner that influences its operations and outcomes to the extent of KeySource. KeySource's impact on SVDP Charitable Pharmacy and the community it serves has been transformational and life-saving. It is exemplary in its activities and contributions," according to the nomination for the award.
KeySource is a wholesale supplier of generic prescription medications to thousands of Independent Pharmacies, Long-term care organizations, Health Systems, and Specialty Pharmacies across the USA. Headquartered in Cincinnati, OH, and with offices in New York and Florida, KeySource provides personalized, one-on-one service to help its customers support the healthcare needs of people in their communities. More information about KeySource is available at keysourceusa.com while additional details on the SVDP Charitable Pharmacy can be found at svdpcincinnati.org/pharmacy.
The Ohio Legislature, through H.B. 320 of the 130th General Assembly in 2014, designated December as Free Clinic Appreciation Month (FCAM) in Ohio. As part of Free Clinic Appreciation Month, the Charitable Healthcare Network and the Ohio Department of Health recognize the accomplishments of Ohio's free clinics with Free Clinic Award presentations.