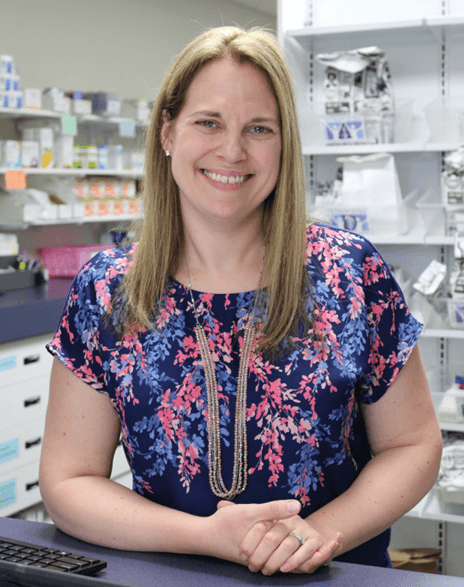 In partnership with the Ohio Department of Health (ODH), the Charitable Healthcare Network (CHN) is pleased to announce Katie Owens, PharmD, BCACP as the 2022 Free Clinic Pharmacist of the Year award winner for her work with St. Vincent de Paul (SVDP) Charitable Pharmacy in Cincinnati.
Owens began her career as a volunteer pharmacist in 2015 and now serves as a full-time pharmacist at SVDP Charitable Pharmacy, the only stand-alone pharmacy providing free pharmaceutical care to patients in need across southwest Ohio. In her 7 years of service, Katie has led a team that served over 40,000 prescriptions for free to nearly 4,500 Cincinnatians in need. Overall, SVDP Charitable Pharmacy filled its 700,000th prescription in 2022.
Owens serves as the manager of the Charitable Pharmacy's satellite location inside the St. Vincent de Paul Western Hills Thrift Store. She has ensured the success of this unique model in which a charitable pharmacy connects to the community within a thrift store where the working poor often shop and learn about free medication access. In fact, the model she has designed and managed has impacted the community so much that it will be replicated in another satellite location in the St. Vincent de Paul Milford Thrift Store in 2023.
Owens manages daily operations and drug inventory at the Charitable Pharmacy with a specific clinical focus on diabetes management and tobacco cessation. Her innovative approach to tobacco cessation, which includes monthly face-to-face meetings, biweekly phone calls, and weekly text messages, enables providers to develop relationships with their patients and achieve cessation success rates twice the national average. Her work in diabetes management consistently improves hemoglobin A1c and reduces the risk of heart attack and stroke for her patients.
"Katie is consistently kind, compassionate, and diligent. Patients seek out Katie because they know she truly cares and wants to build a lasting relationship with them. Many people are healthier because of Katie, and some are alive because of her!" read the nomination for the award.
Owens received her Doctor of Pharmacy degree from The University of Toledo and her ambulatory care residency training from The Toledo and Flower Hospitals/WW Knight Family Practice. More information about the SVDP Charitable Pharmacy can be found at svdpcincinnati.org/pharmacy.
The Ohio Legislature, through H.B. 320 of the 130th General Assembly in 2014, designated December as Free Clinic Appreciation Month (FCAM) in Ohio. As part of Free Clinic Appreciation Month, the Charitable Healthcare Network and the Ohio Department of Health recognize the accomplishments of Ohio's free clinics with Free Clinic Award presentations.