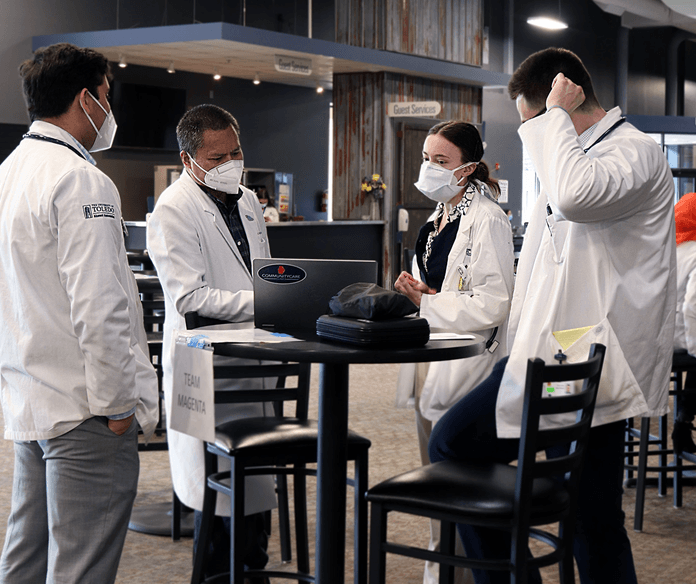 In partnership with the Ohio Department of Health (ODH), the Charitable Healthcare Network (CHN) is pleased to announce the University of Toledo CommunityCare Clinics as the 2022 Free Clinic of the Year.
The CommunityCare Clinics (CCC) is a student-run, volunteer-driven clinic offering free healthcare with dignity to the uninsured and underinsured of the greater Toledo area. CCC provides health care at five unique sites across Toledo. These clinics focus on providing patient care in a place that the patient is already comfortable with, in their primary language, and with care teams that represent their community.
In doing so, the CCC works to bring healthcare to the patient, breaking down common barriers to care like transportation by having multiple sites throughout Lucas County.
"CCC has worked hard to not only be a source of free health care in the community but also bring that health care to historically underserved populations right in their own backyard! CCC has worked tirelessly to meet Toledo's most vulnerable right where they are and create a safe space for them to live healthier, more fulfilling lives," read the nomination for this award.
After providing over 7,000 COVID-19 vaccinations in 2021, CCC pivoted to focus on Diversity, Equity, and Inclusion efforts in 2022. CCC has always offered a welcoming environment to anyone in need but wanted to dig deep this year and ensure these values were clearly displayed to the community. This increased focus in 2022 included deepening the connection between CCC and Toledo's LGBTQ+ community, partnering with the Student National Medical Association, an organization that supports underrepresented minority medical students, to increase their representation in their student and provider volunteer populations and ensuring a high standard of care by utilizing students and providers who could communicate in a patient's primary language. More information about CCC can be found at utcommunitycare.org.
The Ohio Legislature, through H.B. 320 of the 130th General Assembly in 2014, designated December as Free Clinic Appreciation Month (FCAM) in Ohio. As part of Free Clinic Appreciation Month, the Charitable Healthcare Network and the Ohio Department of Health recognize the accomplishments of Ohio's free clinics with Free Clinic Award presentations.