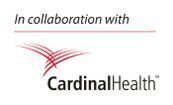 Today, Cardinal Health and Charitable Healthcare Network (CHN), Ohio's statewide network of free clinics and charitable providers, announced they are joining forces to help increase access to medications for underserved Ohioans. As a result of this partnership, the Cardinal Health Foundation and CHN will develop two pilot programs to help improve patient outcomes across the state.
Access to lifesaving medications is one of the biggest challenges facing underserved patients in Ohio and across the country. Even if medications are available, many uninsured patients face barriers to adhering to these life-saving prescriptions.
With support from the Cardinal Health Foundation's Equity Rx program, CHN will receive a two-year $500,000 grant to aid in developing a medication access lifeline, which will provide financial support to free clinics caring for Ohioans in medication crisis. The pilot program is expected to launch in the fall of 2023 and will track patient outcomes.
"Our community engagement work is improving the communities in which we serve. Providing access to critical medications for vulnerable populations is a powerful way to improve health equity across our home state," said Jessie Cannon, Vice President, Cardinal Health Foundation. "We're proud to invest and further the work CHN is doing to improve patient outcomes for Ohio's most vulnerable."
Additionally, Cardinal Health's grant will support a second pilot from CHN focusing on a regional medical access program that will bolster the care team for the uninsured and underinsured in Ohio. Beginning in the southwest part of the state, CHN will be working with the St. Vincent de Paul Charitable Pharmacy (SVDP) and several free clinics in the region to fill and deliver prescriptions directly to sites where patients are already receiving care. SVDP's pharmacists will also join the care team for these patients to provide medication education and help to mitigate medication adherence issues that can arise in vulnerable populations.
"Free and charitable providers are already the backbone of Ohio's healthcare safety-net. However, this partnership and pilot program have the opportunity to change the game in the way the most vulnerable in our state receive care," said Jason Koma, executive director of the Charitable Healthcare Network.